The Joy of Twins and Other Multiple Births:
Having, Raising, and Loving Babies Who Arrive in Groups

This edition of the supportive and comprehensive guide offers the latest medical, psychological, and sociological findings on all aspects of caring for two or more infants. Contains new chapters on premature infants and coping with triplets and beyond. Photos.





Twins!:
Expert Advice from Two Practicing Physicians on Pregnancy, Birth, and the First Year of Life with Twins

"This pregnancy book specifically covers the health concerns related to having twins along with the demand on time caring for two babies can create...takes the reader from pregnancy to the first birthday."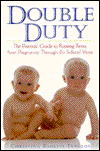 Double Duty :
The Parents' Guide to Raising Twins, from Pregnancy through the School Years

The mother of twin toddler boys provides real-life solutions, parent-tested suggestions, and expert advice on everything from pregnancy-related weight gain to whether or not to put the children in the same class in school. Illustrations.



Parents
Magazine DescriptionParents emphasizes family formation and growth, focusing on the day-to-day needs and concerns of today's parents. Everything from disciplining and rewarding your children to planning family vacations is covered in this essential guide for moms and dads.